Whether an Enterprise or a Managed Service Provider, a winning network is essential to your business. A winning network delivers data from point A to point B quickly, reliably, and error free.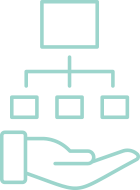 A winning network has…
a solid foundation
precise, easy to interpret documentation
deterministic traffic flows
constantly maintained network monitoring systems (NMS)
well planned and seamlessly integrated projects
issues resolved quickly
NETDAIS' philosophy is listening to what you want and delivering what you need, having the gumption to say "I don't know, but will find out", and a straight-up no fluff policy.
Our engineers have over 25 years' of knowledge and experience at every level of the OSI model.
We audit, design and implement winning networks worldwide, from hospitals in Alaska to schools in China to research stations in Antarctica. No matter your industry or location, you can have a winning network.
NETDAIS creates winning networks from scratch, or can audit, design and implement changes to your existing network.
We deliver what we promise.